**Some links on this page can take you to Amazon.com, where you can see prices, customer reviews, product specs, etc … Please note that we only share stuff we love. We may earn a small commission if you buy through our links.
Moms on the go have so many responsibilities.
Whether you are working full time, part time, remotely or are a business owner, you know that the safety and comfort of your children come first.
Moms want to know that their babies are comfortable and close.
Researchers, professors, and moms across the world can attest to the fact that a baby is more likely to become a healthy adult if the baby is touched and held often.
Sarah Blaffer Hrdy is the professor emeritus of anthropology at the University of California and author of Mother Nature: A History of Mothers, Infants, and Natural Selection.
She says that infants are biologically programmed to gravitate to warmth and closeness.
This idea is part of the reason for the increased use of baby wraps like the Moby and the Boba.
They keep the infant close to mom while mom can function hands-free to work, shop, clean and do all the myriad of responsibilities that busy moms must do.
So what is a busy mom to do if she wants to ditch the carriage and opt for a baby wrap? There are two great choices on the market right now.
One is the Boba Baby Wrap and the other is the Moby Baby Wrap.
Boba Wrap vs Moby
So how do these wraps stack up against each other?
Both the Boba Wrap and the Moby Wrap share a lot in common but they do have pros and cons to keep in mind when making your decision on which one you want to buy.
Boba Wrap is made of 95% cotton and 5% spandex while Moby Wrap is made of 100% cotton
Both comes in a variety of colors and patterns and are machine washable
Both can carry a baby that weighs up to 35 pounds or between the ages of 0 to 18 months
Despite weight recommendations, back pain can become a problem for moms as the baby gains weight
Trial and Error
When it comes to choosing between Boba Wrap vs Moby Wrap, some patience and practice will take you a long way.
You will eventually get used to the process of tying it so that it is comfortable to move in.
But after the initial trial and error, you can be a hands free mom and move about with baby close to your body.
You can find Youtube videos of mothers using both wraps to gives a demonstration on how to put the wrap on and to get a better idea of how to make it work for you.
Below a Moby Wrap video demonstration:
Boba Wrap video demonstration:
You Can Also Check this Frequently Asked Questions for Moby Wrap
Design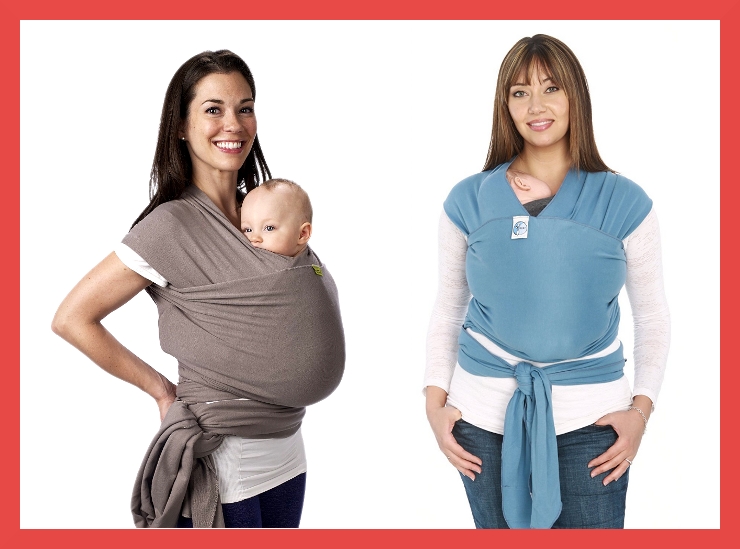 The Boba Wrap (in the left) seems to have more give to it and can feel more narrow. It also tends to be shorter.
With the Moby Wrap (in the right), you may feel like you need to tighten it more than the Boba.
The Moby Wrap tends to be longer and can drag on the floor and get dirty if you aren't careful.
If you are on the plus side, the Moby Wrap may work better in your favor since it is a longer length.
Carry Bag
The Moby Wrap carrying back tends to be smaller than the Boba Wrap bag and can seem harder to fit the garment into.
This can be cumbersome and counterproductive for the purpose of the product.
Things to Keep in Mind
Always wash a baby wrap before you use it on your infant for the first time.
Even if you feel like you have it on correctly and comfortably, your child may beg to differ.
Some infants prefer the pocket wrap cross carry (or the newborn hug hold) while others may prefer the front wrap cross carry (the kangaroo wrap and hold.) Both the newborn hug hold and the kangaroo wrap and hold are terms that were coined by Moby.
Potential Dangers
Hot weather can be a problem for both mom and baby.
Any baby wrap can cause overheating so be sure to stay hydrated and make sure your baby isn't in danger of dehydration.
It may be better to switch to a different, breathable carrier or carriage in warmer weather and use the wrap in cooler weather or in air conditioning.
Also, never back wrap an infant in any baby wrap as this can cause the infant to fall out backward and cause serious injury or worse.
So what is the consensus of the Boba Wrap vs Moby Wrap among moms?
Most moms enjoy the use of baby wraps once they get a handle on how to use it properly. Although some moms may find that it isn't for them at all.
Some moms that didn't care for the idea of using a baby wrap ended up trying the Boba and loved it.
As previously mentioned, its carrying bag is also larger to carry the Boba Wrap.
The Moby seems to require more tightening in order for it to fit correctly.
Some mothers have complained about being unable to correctly fit their baby in the wrap. The longer length may be more helpful for plus-sized women.
Moby offers a number of styles including 100% organic.
They also sell the Moby Knot Hat to protect your baby's head from the sun or other unpleasant weather conditions.
Check reviews on the Boba Wrap and Moby Wrap.
Ask your mom friends what they use and what they think works better.
And if you want to try one but aren't sure if it's for you, check the return policy on the item. You may want to try both before making your final decision.
Finally
If you have any questions at all or you have a preference between the two wraps then please leave a comment below and share your thoughts with other moms!