Here AVENT nipples recommendations 
for AVENT Natural & Classic Bottles
My recommendation for Avent Nipple Sizes:
**Some links in this page can take you to Amazon.com, where you can see prices, customer reviews, product specs, etc.
Learn Which Teat is Right for You and Your Baby :
Avent nipple sizes for their breastfed bottles vary depending on where your little one is in their life. For babies who are alternating between breastfeeding and bottle usage, 1 is the recommended number of the avent nipple sizes. The number 1 is recommended to use regardless of the babies age if alternating between breast and bottle is the practice. However, while this may be recommended, avent nipple sizes also go to 2 and 3 for a reason. Not every child is the same.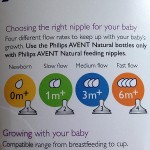 Some mothers have upgraded from the 1 to the 2 and even the three after their baby is 12 weeks old. It all depends on the baby's size. The size of the nipples themselves have to do with the flow of milk into the baby's mouth. The number 1 nipple has the lowest flow, the 2 more and the 3 even more. The main reason for these sizes, aside form the growth of the baby, is the fact that newborns cannot keep up with the flow of milk as fast as a baby who is six months old. They can easily choke if they get too much intake at once, so regulating the flow with these avent nipple sizes is key in making sure the kiddo is getting the right amount and the right speed.
You can also read this article : When to Change Nipple Flow On Bottles?
Sometimes, younger babies may not be getting enough nourishment from the 1, so switching to a higher flow nipple will improve the intake for the little one and keep them satisfied. Again, while there are standard practices and recommendations out there regarding what size avent nipples to use in regards to the size of your baby, the most important thing to know is your individual little angel. That way, you can keep them in the right nipple at the right age.
By : My Milky Baby