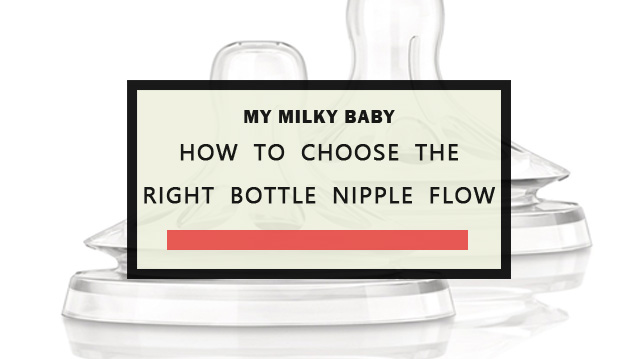 Being a new mom can be tough and confusing at times. There are so many decisions to make, and it feels like making the wrong decision could lead to disaster.
For instance, have you ever looked at a baby feeding system and wondered which size nipple to use?
There are usually several sizes of nipples included in the box, and you want to choose the right one.
After you have been feeding your baby for a while, you may wonder when to change nipple flow on bottles.
Here are some tips to help you figure out whether the nipple flow you are using is right for your baby and when it may be a good time to change the flow.
Nipple Flow Levels
While there is no standard nipple flow that works across different brands, you will likely see packaging with labels like slow, 0, 0m+, 1m+, 3m+, and 6m+.


If you're wondering when to change nipple flow on bottles, many pediatricians suggest trying a new nipple size every three months.
Just watch your baby carefully to make sure that they are adjusting well to the flow of the new nipple. It may take a few feedings for them to get used to the nipple.
Going back to the nipple flow that you were using before might be necessary if your baby hasn't adjusted to the new flow after a couple of days.
On the other hand, many moms never change the flow of their baby's nipple. If your baby is eating well, it may not be necessary to change the flow of their nipple at all.
Some babies always use slow flow nipples, while others get frustrated if the flow of milk is too slow when they are a couple of months old.
What works for one baby may not work for another, even if the babies are from the same family.
The general rule is that babies who are under 3 months old should use slow flow nipples.
Babies who are between three and six months old often need medium-flow nipples on their bottles.
Fast-flow nipples aren't usually recommended for babies under six months, although they may be necessary if you are mixing the formula with cereal to help your baby's reflux.
Tips for How and When to Change Nipple Flow On Bottles
First, watch this video of Dr. Natasha Burgert talking about when to transition to faster flow bottle nipples.
If you are an Avent bottle user and you need the right nipple flow for your baby, go and check this table, it gonna helps you understand which bottle nipple your baby needs!
When you're choosing a nipple for your baby's bottle, remember that a size one nipple in one brand may not be the same flow as a size one in another brand.
For example, Avent nipple flow will likely be different than the Dr. Brown nipple levels flow or any other brands.
Some moms avoid this issue by always using the same brand of nipple, while others may try several nipples until they find the right flow.
Don't feel like you have to start with size one just because your baby is young. A nipple in size two may work better for your baby.
It's good to remember that your baby should finish a bottle in around 15 minutes. This usually means that a nipple with a faster flow is needed when your baby starts drinking more ounces per bottle.
You may need to get a nipple with a slower flow if your baby is drinking their bottles too fast, especially if they often get fussy after eating.
Watch your baby while they are drinking their bottle to make sure that they are not sputtering, gagging, or leaking milk out of their mouth. These are signs that you should use a nipple with a slower flow of milk.
You want your baby to eat comfortably, but not drink too fast or swallow a lot of air while they are drinking.
Just as you're likely to get frustrated if you're having trouble getting your drink through your straw, your baby may get frustrated and upset if they are having trouble getting milk out of their bottle.
If your baby is getting bored or angry during feedings, that's when to change nipple flow on bottles. Try a nipple with a faster flow so that it's easier for your baby to get his or her milk out of the bottle efficiently.
It's best to only go up one nipple flow at a time so that your baby isn't overwhelmed by a big change in flow.
Other Tips for Bottle Feeding Your Baby
If your baby is losing interest in eating, the flow of milk from their bottle may not be to blame.
Try to limit distractions while you're feeding the baby. Their eyesight is developing rapidly and the world is getting more exciting, so it may be best to feed your baby in a private room whenever possible.
A dark room is best for night feedings because it keeps distractions to a minimum and may help your baby fall asleep faster.
If your baby is having trouble latching and sucking from one type of nipple, it may be best to change the type of nipple, rather than the rate of milk flow.
Some are pretty flat, while others have more of an angle. There are also many types of air vents in the bottles and the nipples.
It may take several tries with different nipples and/or different bottles before you find the right combination that allows you to feed your baby efficiently, without them getting overly gassy or gagging from drinking too fast.
You know your baby best, so keep trying until it feels right.
Read more about Avent Nipple Sizes & The Avent Nipple Flow Chart here