When baby Charlie said his first hello at the age of 8 weeks, his parents were in tears.
But this isn't what all babies are supposed to do.
Babies are different, and they develop according to their own pace.
Nevertheless, being aware of the language development milestones is critical, so you can take action if something isn't right.
A 14 month old not babbling can be a worrying symptom to many parents. Keep on reading to learn more about your baby's development, when you should be worried, and what is the best action to take.
Content:
What is Babbling?
Should You Be Worried If Your 14 Month Old Not Babbling?
What Are the Normal Milestones for a 14 Month Baby?
When to Be Concerned?
What Should You Do If You're Concerned?
What is Babbling?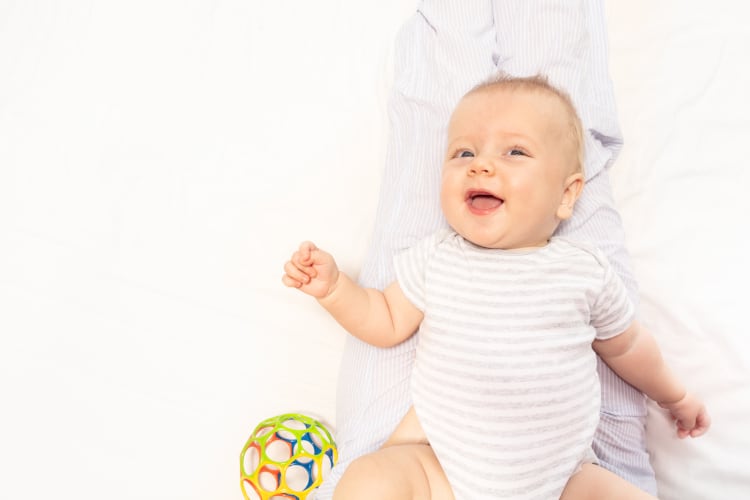 Babbling is a combination of nonsense words that your baby uses for communication. For example, it could be their way of telling you that they're hungry, happy, or that they love you.
Your baby might start babbling by making sounds using consonants like p, b, and m because they depend on the movement of the lips. So, the first words that your baby is likely to say are ma-ma or pa-pa because these sounds are easier to make.
On the other hand, Da-da is harder to produce because the letter d is done using a movement of the tongue when it hits the roof of the mouth.
Your baby might not use the words in common sense or their accurate meaning, but they will use unique words that only a parent or a caregiver will understand. The concept of the words depends on how you react and respond when the baby speaks them.
For example, if the baby says ma and you pick them up, they will use this word whenever they want to be picked up.
They can use other words like pa, ba, or ap if they want to be given the bottle. This babbling will later develop into the special language that you understand.
Should You Be Worried If Your 14 Month Old Not Babbling?
Language milestones are marks that show how your baby is developing. Every parent is definitely eager to hear their baby's first words, but some babies will speak them faster or later than others.
Long before your baby starts babbling or speaking, they will be trying to communicate in various ways.
During these first few months, your baby's energy will be focused on moving, trying to get themselves to sit up, trying to roll over, crawling, and even trying to take their first steps.
This is why some kids will start to babble faster than others once they've achieved these other developmental milestones.
Babbling or baby jargon should start any time after the 6 months mark, but there are no rules.
If your baby is doing everything else, this means that they can hear you well. In this case, they might just need more time before they start babbling and speaking to you.
What Are the Normal Milestones for a 14 Month Baby?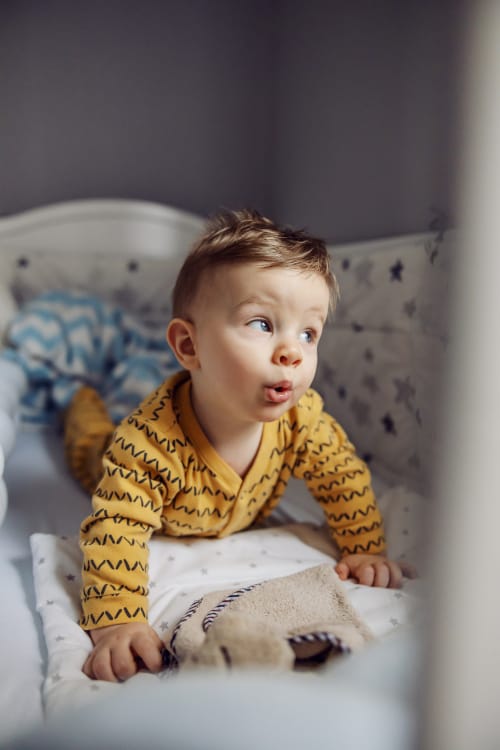 A 14 month old not babbling is worrying, especially if other kids in the family spoke earlier or your best friend's toddler who was born a month after your baby is already calling her name.
But it's crucial to understand that your baby might be focused on something else. They might be waiting for the right moment to speak in full correct sentences.
By the age of 14 months, your toddler is working on mastering several skills. Here are some of the milestones that you should look out for.
Every parent should understand that there's no rule book when it comes to these developmental milestones. Some kids will only achieve some of them, while others will achieve all of them within their first year.
What you need to do is to keep an eye on your toddler's progress and make sure that they're able to comprehend and interact.
When to Be Concerned if 14 Month Not Babbling?
A 14 month old not babbling shouldn't be a major cause of concern. However, if not talking is combined with the following symptoms, you should have your baby checked by the pediatrician, who will most probably refer you to a specialist if they see that your concerns are valid.
What Should You Do If You're Concerned?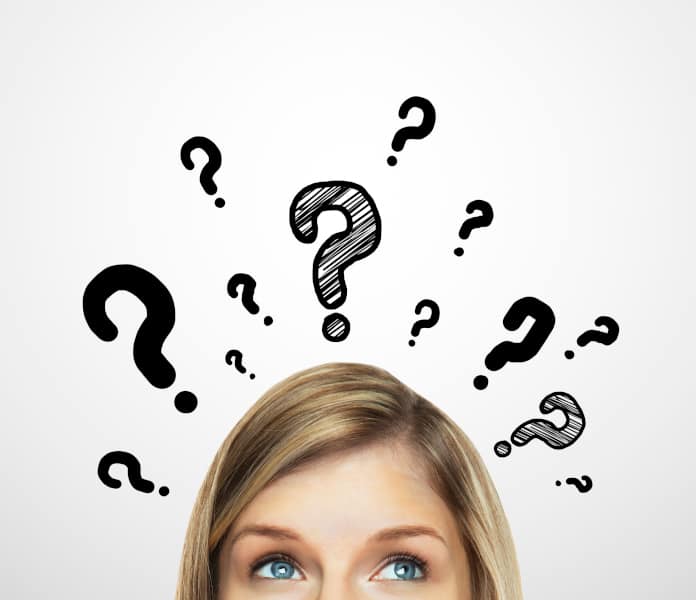 When a 14 month old baby not babbling, the best thing that any parent can do is to have their baby checked as soon as possible.
However, nothing is set in stone, and your baby might be an observer who is waiting for the right moment to speak their mind.
There's no way you can tell that your 14 month baby is speech-delayed because it's still too early. Patience and understanding that toddlers are different will help ease your stress. At the same time, there're a few things that you can do to help your baby and yourself.
Wrap Up
Toddlers are different and develop in several fascinating way. Although some toddlers can start talking when they're 8 or even 6 months old, some will wait until they're older than a year. If your 14 month old not babbling, you should keep an eye on other developmental milestones.
Discuss your toddler's situation with your pediatrician, and if they're alarmed, they'll refer you to a speech therapist. Nevertheless, your baby might wait until they're able to make full sentences and won't stop talking after they do.