Have you ever been really overwhelmed when you're looking at baby items?
There are so many different products that serve basically the same purpose that it can seem nearly impossible to choose the best one.
Breast pumps are one example. Here are some Ameda breast pump reviews to give you information about the available options and help you choose the one that's right for your body and your lifestyle.
Ameda Breast Pump Reviews
In this article I have reviewed Ameda Purely Yours breast pumps and two hospital-grade breast pumps:
**Some links on this page can take you to Amazon.com, where you can see prices, customer reviews, product specs, etc … Please note that we only share stuff we love. We may earn a small commission if you buy through our links.
Ameda Purely Yours
Ameda Purely Yours Ultra Breast Pump Review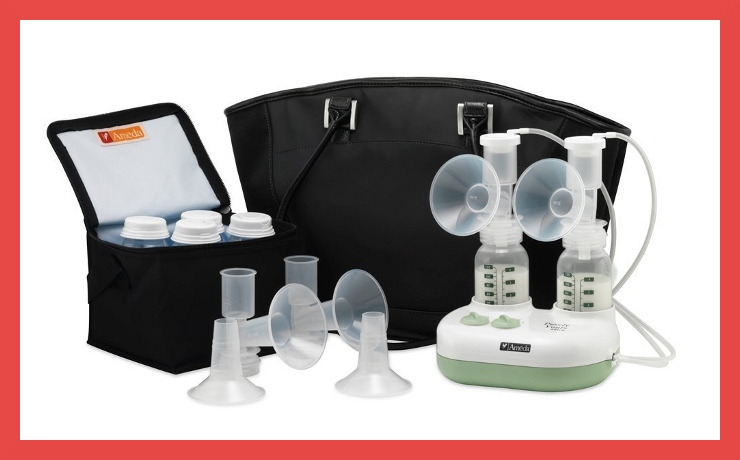 As a new mom who needs to pump while I'm at work, I need a breast pump that is lightweight and is portable.
The Ameda Purely Yours Ultra Breast Pump is a good option for pumping when I have to be away from my baby.
Ease of use is important to me. The Ameda Purely Yours Ultra is simple to learn how to use. This pump has adjustable suction and speed controls.
The dials for speed and suction are independent, making it more comfortable. It also allows dual pumping, as well as single pumping.
The pump's closed system and unique HygieniKit milk collection help to keep the tubing free from milk leaking into it. It's easy to use and fairly easy to clean.
One drawback that other moms have complained about is that it is somewhat loud.
So what is included with the Purely Yours Ultra Breast Pump?
It comes with six milk storage bottles, and as a side note it also fits Medela brand bottles.
There are three ice packs, a cooler bag, three sizes of flanges, two extra valves, an accessory bag for Ameda Purely Yours parts storage, an AC power adapter and instructions.
A great bonus is that this comes with a car adapter, which I find really useful because, unfortunately, not everyone has a private office — thank goodness for tinted windows, though! Six AA batteries can also power it.
It even comes with a stylish, ultra suede faux leather tote which is nice because it doesn't scream, "breast pump in here." I'm a big fan of this tote.
There is sufficient padding to protect the device from too much jostling around during transport.
Pros:
Approved by the FDA
Easy to clean
Has holders for two bottles
High tube placement to minimize milk backup
Cons:
Spare parts can be hard to find.
There's no massage/letdown option
It can be hard to distinguish between the cycle speeds and suction levels
After a moderate use, you will probably see many other problems in this pump, like the slow flow pumping, the noise, needs batteries even you use cord… and many other problems. That's why I don't recommend it.
Ameda Purely Yours Carry All Review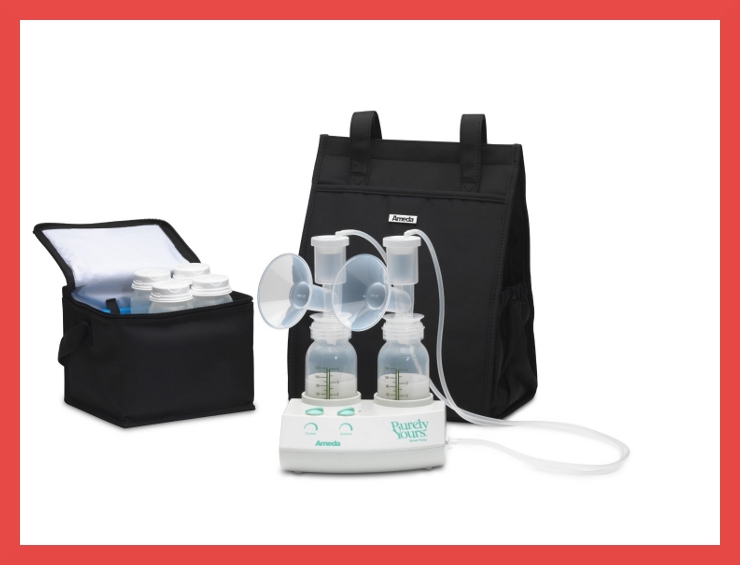 This is my opinion about this pump in the first two weeks of use. it's a lightweight pump and easy to use for nursing moms.
As a busy mother of a baby, I sometimes feel like a pack mule with my purse, diaper bag and breast pump.
Additionally, I often have my camera bag with me, and I really don't like extra weight. So, this breast pump is lightweight too and easily portable.
The Ameda Purely Yours Carry All breast pump comes with Ameda's dual HygieniKit milk collection system, six milk collection bottles with lock-tight sealing lids, two silicone diaphragms, two pump bodies with standard size breast shields, two clear valves, a card with milk storage guidelines and instructions.
Also, included is an AC adapter, a Cool 'N Carry tote with three ice packs and an attractive Carry All microfiber tote.
All the accessories conveniently fit in the tote bag, which has handles long enough to carry as a shoulder bag.
The Purely Yours Carry All breast pump has a closed system that prevents backflow so the tubing does not get dirty.
This helps to keep milk free from bacteria, viruses and mold while pumping and to keep the tubing dry. The milk collection system is also BPA and DEHP free.
You can check the video above to understand how this Proven Airlock Protection system works.
After use, this breast pump is easy to clean. Ameda's patented HygieniKit Milk collection system helps make cleaning easier.
Most mothers with babies like simplicity and don't want extra tubing to clean.
The pump itself is easy to use and has adjustable controls for speed and suction intensity to suit the user's preference.
There are four speeds and eight suction levels that help you to mimic your baby's natural nursing rhythm. You can use it for pumping both sides at the same time or just one.
As the first pump. After months of using this Ameda pump was inconsistent and seemed weaker and by reading reviews on some forums, some mothers have complained of weak suction, while others have commented that the Purely Yours Carry All pump provides more comfort. Sometimes a lower suction level can give a break to sore nipples.
It can be used with six AA batteries, an AC adapter or with a car adapter (which is available to purchase separately).
There are also custom fit flanges and other spare parts available online for the pump.
Ameda CustomFit Flange System:
Yes, this is an option for any mom who wants an easy and portable breast pump, but, in my opinion, it's not the best Ameda breast pump and C- is my rating for this .
Pros:
More affordable than many other breast pumps.
This pump is easily portable, and the plain black bags make it more discreet.
It is lightweight and easy to clean
Cons:
Louder than other pumps of similar size.
Lost suction quickly.
Ameda Purely Yours Express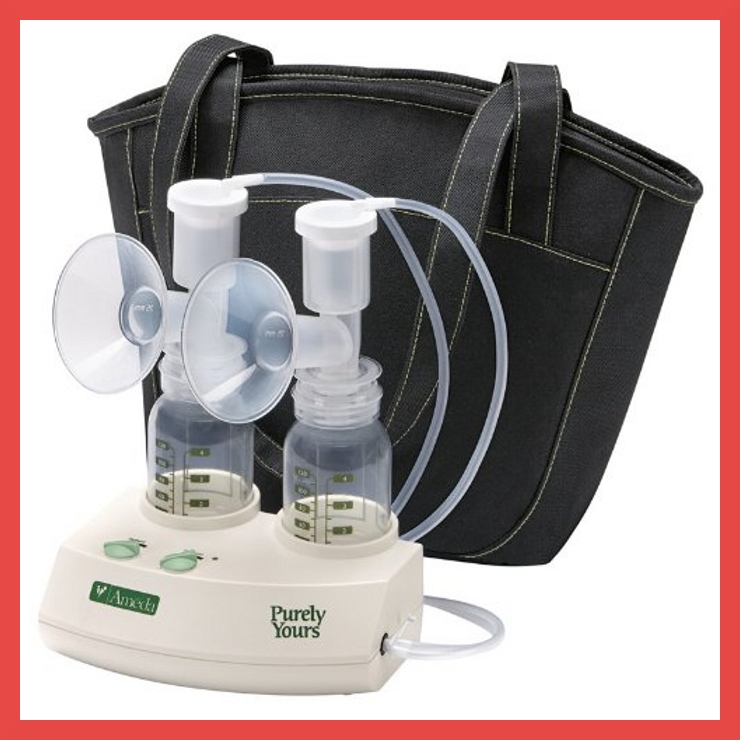 Features:
The Ameda Purely Yours Express uses a proven airlock protection that protects the breast milk from bacteria, mold and viruses.
It uses the HygieniKit Milk Collection System.
This breast pump comes also with two 25mm flanges, two diaphragms, two bottles with lock-tight lids, two valves, tubing, adapter for single versus dual pumping, carrying tote, AC power adapter and instructions with DVD.
It uses Ameda's custom fit flange system, which has seven flange sizes (available separately) that adapt to all Ameda breast pumps.
This pump lets mothers get a multi-phase pumping experience with its independent speed and suction controls.
This lightweight pump has a motor that only weighs one pound.
In addition to the AC adapter, six AA batteries or the car adapter that is sold separately can power it.
This pump's effective pumping action and suction make it a viable option if you need to pump for your nursing baby. Using and taking care of this pump is simple. Some moms on different forums said that they could not tell a difference between the different suction levels or speed, while others have said that it efficiently gets the job done.
I like the portability and ease of being able to carry this in its tote bag.
You can read what moms using this pump think about the Ameda Purely Yours Express by reading the customer reviews section here! and sounds they don't really like it.
Multi-user, Hospital-grade Breast Pumps
If you are in the process of trying to establish your milk supply or your baby isn't breastfeeding regularly, a hospital-grade pump is recommended.
These are especially useful for mothers wanting to breastfeed premature or sick infants or for mothers breastfeeding multiple babies.
A hospital-grade pump is designed to be used by multiple mothers. Ameda makes two multiple-user, or hospital-grade, breast pumps — the Elite and the Platinum.
A hospital-grade pump is designed to be used by multiple mothers. Ameda makes two multiple-user, or hospital-grade, breast pumps — the Elite and the Platinum.
Many reviews show that both models are durable. They both have separate controls for speed and suction, having speeds of 30 to 60 cycles per minute (CPM) and suction of 30 to 250 mmHg.
The Elite and the Platinum models use the Ameda Hygienikit Milk Collection System that incorporates the company's unique Airlock protection to keep the tubing clean and free from backflow and contamination.
For shared pumps, this closed-system is great for keeping your baby's milk sanitary.
Ameda Elite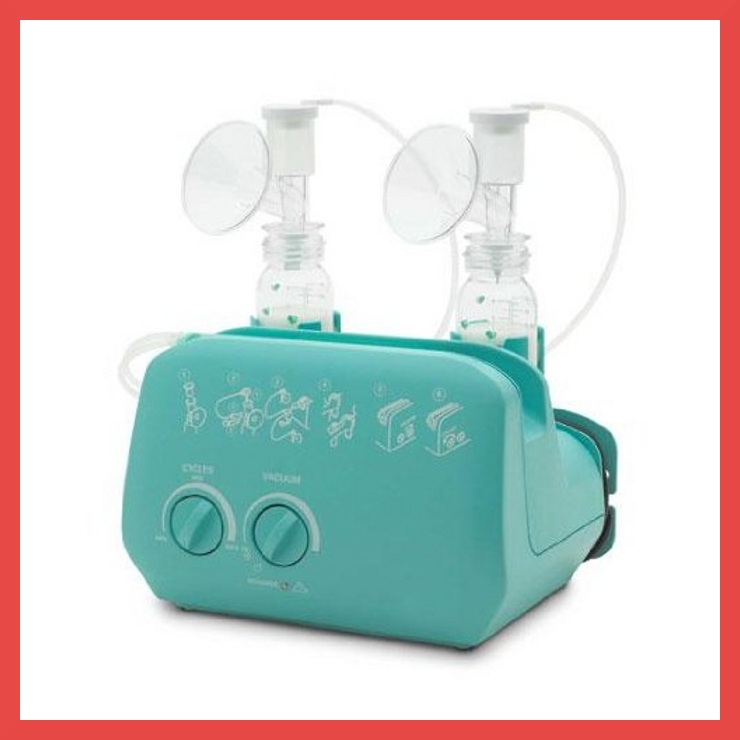 Features:
The Ameda Elite breast pump weighs about six and a half pounds. This classic unit is enclosed in a bright green case.
It allows separate adjustment of suction and speed.
It has suction that ranges from 30 to 60 CPM.
It features built-in bottle holders to keep bottles and storage bags sitting up to keep spills from happening.
This has a piston-driven electric pump that incorporates a microprocessor to give you your choice of vacuum and piston cycle.
Ameda's HygieniKit Milk Collection system, sold separately, can be connected to express the milk.
This pump is designed for multiple users and for heavier use. This model is used by hospitals, birthing and lactation centers. It is meant to be used with the Elite rental kit.
It can be used with a 12V car adapter.
Drawbacks:
It isn't as easily portable as single-user pumps due to its size.
It can't be powered by battery.
If you are looking at buying the pump, it is more expensive than the Ameda single-user pump models (Ah yes! its time to show you this page if you need any information about breast pumps & insurance coverage).
The Ameda Elite has been on the market for a long time. This model is good for helping to increase your milk supply. Several product reviews have commented on this pump's loud sound, but others have said it is quiet.
The Elite's lack of backflow into the tubing is commendable for its ease of cleaning which is a huge time saver.
Find the Elite's price here!
And here, an Ameda Elite video review:
Ameda Platinum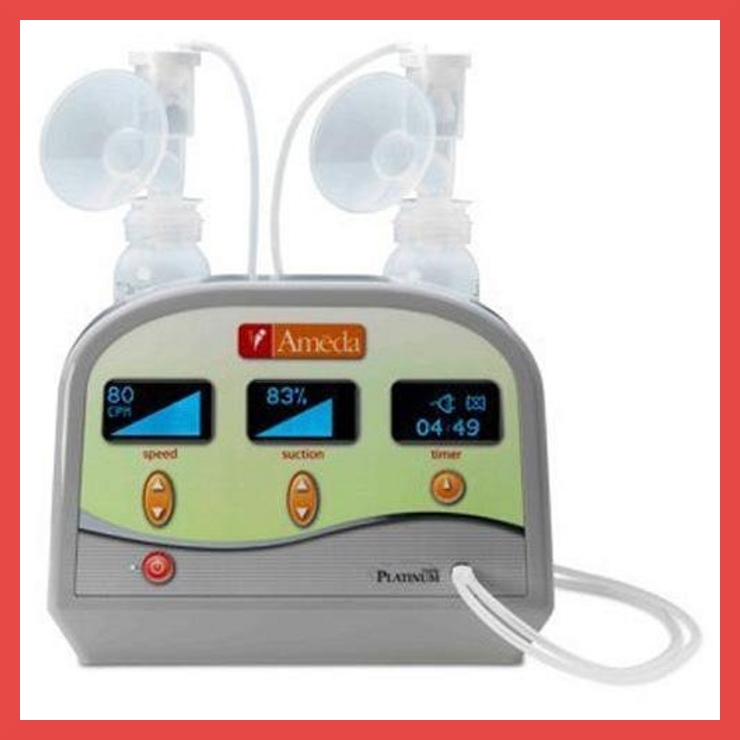 Features:
The Ameda Platinum pump has a more modern design than the Elite model. This model features an LCD display screen for showing the suction and speed settings, along with a timer display. There is also an auto-shut off after 60 minutes.
This model has Ameda's SMB waveform and VacuSense Technology, which makes sure that the vacuum is the same as the selected setting.
Like other Ameda electric breast pump models, the Platinum has suction and speed settings that can be independently adjusted.
This electric breast pump is reasonably quiet, as far as electric pumps go.
The base has a built-in bottle and flange holder, and the unit can be mounted on the Ameda trolley for easier transport.
Drawbacks:
It's heavy (approximately nine pounds) and not convenient to carry around.
This model can't be used with a car adapter.
The price might seem high if you want to purchase it. (Check the price here!)
The LCD display makes this easier to read, especially when you need to get up in the middle of the night. The settings help you to adjust this to match your milk flow to match your baby's multi-phase feeding. According to some reviews, the Ameda Platinum pump is highly recommended for its efficiency at establishing and maintaining your milk supply. One experienced pumper said it was worth the extra money. One caution is that this can't be left plugged in while it's not being used.
In this video you will see the Ameda Platinum's functionalities :
If you are looking for a high rated breast pump & less expensive than the Elite and the Platinum, I suggest you to take a look to this post.
I can't buy to try all pumps on the market, so I asked many mothers about their favorites and this what stands out!
When you're reading Ameda breast pump reviews, it's essential to remember that you will be using your breast pump often, so choose one that works for you.
Some of the things that other moms don't like may not bother you, and some of the features that they love will not matter to you.
Now its your turn, I would love to hear about your experience with breast pumps, you can also ask any questions, I will answer you as fast as possible 😉