Any woman will tell you that her purse is never big enough even if she isn't a mom.
She needs room for her wallet, phone, checkbook, a pen, lipstick, compact touch-up, comb or brush, and mirror.
But if she's a mom, for sure, she's going to need lots more room. What she needs for the child depends on the age of the child.
If her little baby is still nursing, she will need a nursing cover. If her baby is using bottles, she will need at least one bottle.
Perhaps, she'll need a jar of baby food, a bib and spoon as well. For a baby, she'll also need to carry extra diapers, wipes, clothes changes, toys, snacks and more.
She simply needs a BIG, BIG PURSE! She needs a purse like diaper bags.
Now that we know she needs a big purse, let's look at some that are on the market today.
Content:
Yaluxe Purse (Review)
S-ZONE Purse (Review)
COCIFER Purse (Review)
JOYSON Purse (Review)
(Mom Picks): Best Purses for Moms
**Some links on this page can take you to Amazon.com, where you can see prices, customer reviews, product specs, etc … Please note that we only share stuff we love. We may earn a small commission if you buy through our links.
YALUXE Purse
Buy From Amazon
Read Customer Reviews Here
This shoulder bag is made of oxford nylon that is high density and durable and also has a large capacity.
It is durable due to its every stitching joint being strengthened and the width of its strap is wide measuring 0.6 inches.
Read on and you will see why it is without a doubt one of the best purses for moms.
Being a shoulder bag, this purse allows you to be hands-free.
However, the length of its strap is short enough with a 10.43″ drop to avoid problems of the purse hanging too low for short women.
The length of its strap doesn't look as if it would serve as a top-handle well. Which is more important for you?
Do you prefer to be hands-free or to be able to use its strap as a top-handle?
This purse's dimensions of a bottom length of 15.07", 6.61" bottom width and 11.81" height makes it easily large enough to carry all your necessities.
For the working businesswoman, it can hold 14" laptops, A4 files, folders, books, checkbook, wallet, cellphone, iPad, charger, cosmetics, lunch box, water bottle and more.
It can also carry all those mom things such as formula, bottles, toys, baby food jars, spoons, diapers, wipes, etc.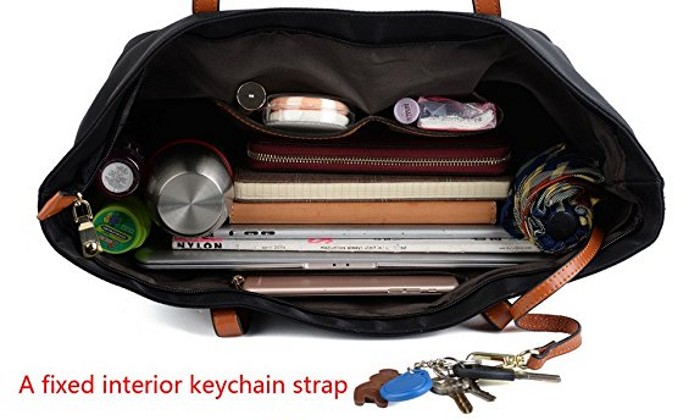 For security, a zipper top closure is an excellent feature. Magnet or snap closure can be pulled open too easily. As far as security is concerned, an open purse is worse of all.
Included with the purse is a separable wristlet handbag. Inside the wristlet bag is a zippered pocket and two open pockets.
Your keys can be kept in the zipped pocket at the back of the purse.
This purse is available in black, navy or purple.

Whether you're going to work, school, or traveling, this is an outstanding, quality purse at a more reasonable price than other purses that are the same style on Amazon.
S-ZONE Purse
Buy From Amazon
Read Customer Reviews Here
This high-quality S-ZONE purse's outer material is genuine cow leather.
Cow's skin is used to create the genuine leather of this purse. Being genuine leather makes this purse far more durable than those made with vinyl.
The leather is also processed with oil wax making the purse look brighter.
The purse's measurements of 14.57" length, 10.83" height and 4.72" width shows that it certainly has enough capacity to carry all those things a mom needs.
Since the purse can carry a maximum weight of 1.65 lbs., it will definitely carry a mom's necessities.
The age of a mom's children determines which of the following the mom will need to carry: formula, baby bottle, diapers, wipes, toys, snacks, baby food jars, spoons, clothes changes, bibs, etc.
Features of the internal structure of this purse include:
1 central pocket with a zipper handy for your iPAD
2 large compartments
2 pockets for holding cards or keys
1 side pocket with a zipper to hold your wallet or another object.
Totally lined with nylon
A major feature of this purse's straps being adjustable allows you to shorten the straps if the purse hangs too low.
You may also wish to shorten them so that they can be top-handles.
If you want your belongings to be secure or to prevent them from falling out, the zip-top closure is a feature well worth having.
This feature is especially handy due to the zipper being YKK which open and close easily and smoothly.
This purse is available in a large variety of colors including: brown, dark blue, black, dark brown, olive green, wine, coffee and gray.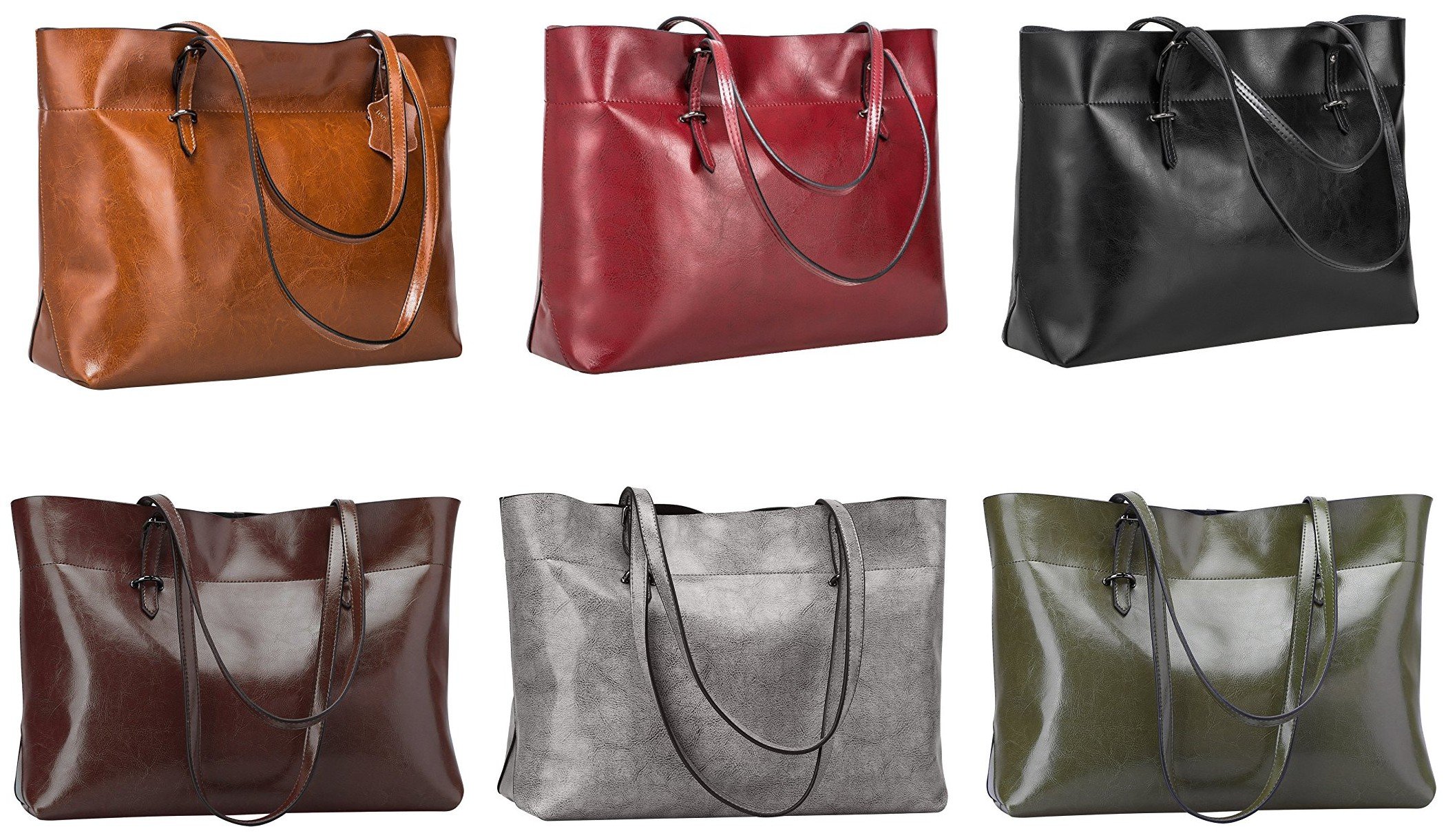 A great feature of this purse's outside structure is the back pocket with a zipper which will be handy as quick access to your phone or keys.
This purse is one of the best purses for moms and well-rated by Amazon customers.
COCIFER Purse
Buy From Amazon
Read Customer Reviews Here
This attractive purse is made of high quality, greased, faux leather on the outside, and its inside is lined with polyester.
Giving this purse a high-quality look to its style is its golden colored hardware. Its gold metal buckle at the top actually gives the purse a noble look.
You can use this purse in many different ways such as a shoulder bag, cross body bag, tote, satchel or handbag.
The purse's long strap allows it to be used as either a shoulder with a height of 8.7" or cross body bag.
Remove the strap that is easily detachable and your purse becomes a satchel or hand bag.
Included with this purse is a removable small purse you can use to hold your phone, wallet or makeup, etc.
Your belongings will not easily fall out since this purse has a secure zipper closure.
This purse has a total of 7 pockets including:
1 zipper pocket on the inside
2 main, inside compartments
2 inside, open pockets that could keep your cell phone and keys handy
1 zipper pocket on the outside
1 large, inside pocket – big enough for your 13" laptop
This purse's dimensions clearly are large enough to provide capacity large enough to hold those mom things needed for a baby, toddler or elementary child.
Its width at the bottom is 13.8", its height is 2.8" and it is 6.2" deep.
Since this purse is faux leather, it may emit a slight odor at first. Air it out, and the odor will disappear.
This purse is available in 7 different colors on Amazon: black, blue, brown, green, pink, red and wine.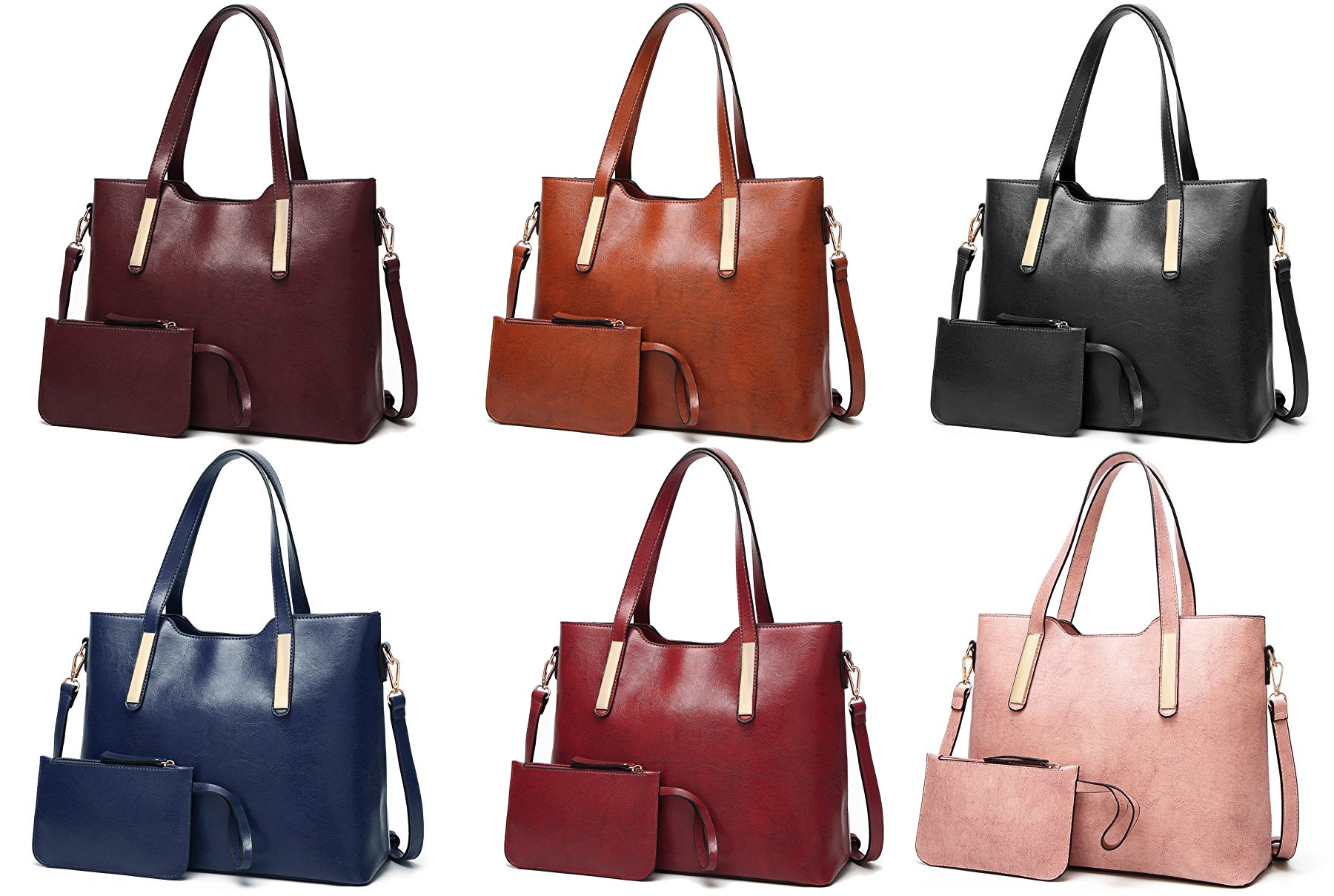 JOYSON Purse
Buy From Amazon
Read Customer Reviews Here
The unique design of this large capacity and casual purse makes it one of the most outstanding purses for moms.
With a typical and distinctive design, it will be in fashion for quite some time. Its outside is entirely made of high-quality PU leather as well as its straps.
The hardware color of this purse is gold. As a high-quality purse, its whole inside is lined with fabric. Being both comfortable and sturdy, it's picture-perfect for any occasion.
The purse has a top-strap and an adjustable and removable shoulder strap. Being able to adjust the shoulder strap is definitely an advantage.
If it hangs too low, you can still use it since you can adjust its length. If you prefer top handles, you can choose to remove the shoulder strap.
The capacity of this purse is large and measures 13.38" at the bottom, 6.29" width, and 14.17" in height. It's big enough to hold all the needs of your child.
Your child may be a baby, toddler or elementary student. Depending on which your child is, you will need to carry things such as formula, bottles, snacks, clothing changes, bib, etc.
The purse's zipper closure will keep all your mom stuff handy, but it certainly won't fall out. If you are going to work, school or traveling with a baby, you will need all your baby stuff.
Features of the inside include:
One main compartment
One large zipper pocket in the middle
One small zipper pocket
Two small open pockets designed for holding your keys or phone
This purse is available in dark grey, apricot, blue, and coffee.
Additional information:
Photo Credits: Amazon, Corinne Kutz.