In today's busy world, a mother will find herself short on time. For the cases that involve an infant who is nursing, a mom will have the additional burden of frequent feedings to contend with. While some parents will opt for a formula based diet out of choice or necessity, many will choose to breastfeed their baby. A mother who chooses the second option will end up making use of a breast pump at some point.
While some may imagine that a breast pump is something that is used only at home, the reality is that these devices are designed for use while out and about or work. When the time comes to carry a breast pump, it is important to consider how the unit will be transported. This where a breast pump bag comes into play. What follows is a closer look at breast pumps, the bags you may wish to carry them in, as well as a closer look at the following three products that we researched that might fit your needs:
The Best Breast Pump Bags (Mom picks)
Sarah Wells "Lizzy" Pump Bag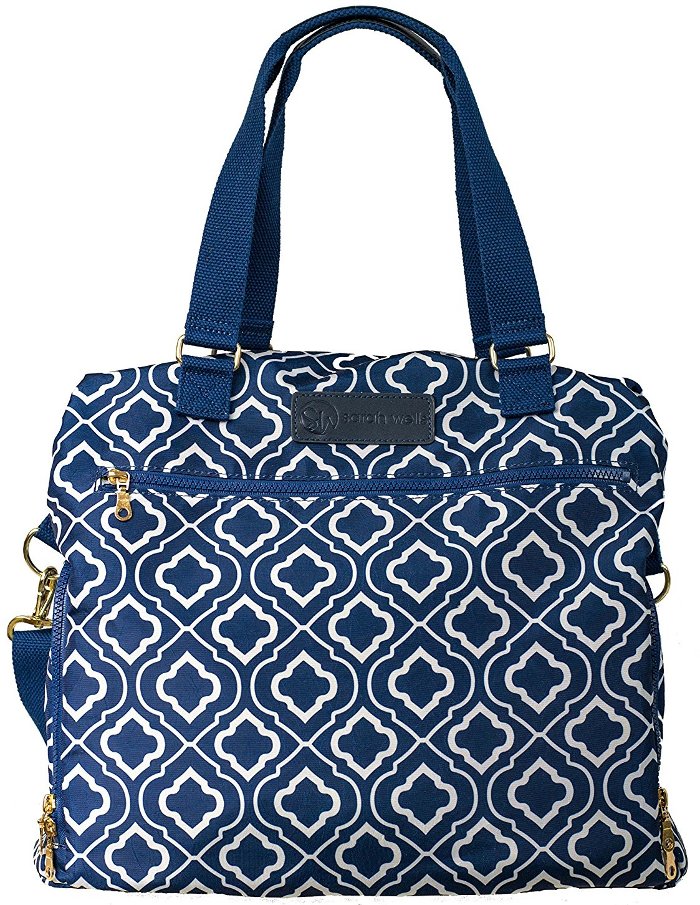 Buy From Amazon
Read Customer Reviews Here
The "Lizzy" offers functionality in design along with a modern look. The trendy pattern allows the bag to mesh with other bag styles, making it discreet in nature.
Best Feature: What really makes this carrier stand out is its smaller footprint.
With dimensions of 15 x 7 x 14 inches and a weight of 1.8 pounds, the "Lizzy" is compact. It's still able to carry all of the necessities though. This carrier is compatible with the Ameda, Ardo, Freemie, Medela, Spectra S1 and S2, as well as many others.
Room For Improvement: The compact size may require some extra work when trying to fit everything inside of it.
The thermally-lined interior pockets can help to prevent milk from overheating when combined with ice packs. There are two additional pouches as well as extra zip pockets on the outside.
Pros
More compact design
Cheaper price point
Can still offer uses after breastfeeding is over
Cons
Material may wear with rough handling
May require more work to organize everything
But wait, you can also watch Shye's video, she unbox the Lizzy bag and you can get other useful information on her video.
Sarah Wells "Abby" Pump Bag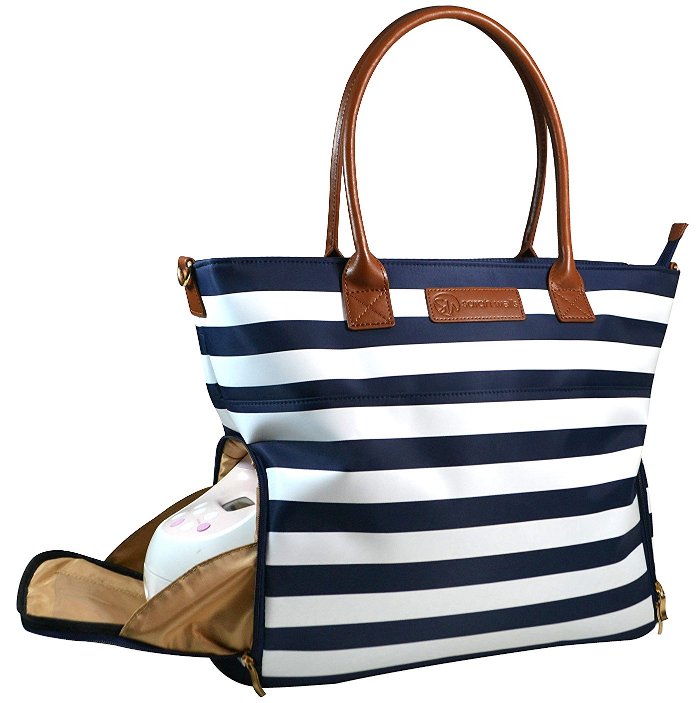 Buy From Amazon
Read Customer Reviews Here
The "Abby" is one of the best breast pump bags of this year, roomy made from nylon, which can be cleaned more easily than other materials. The straps are made from real leather, offering durability and looks.
Best Feature: This bag is roomy enough to fit a laptop in if needed.
This carrier is 16.8 x 7 x 15 inches and weighs 2.85 pounds when empty. Interior pouches and exterior pockets offer plenty of storage. There is direct access to the thermally aligned pockets that aid in milk storage. Compatible with Ameda, Ardo, Medela, Sectra, and Phillips Event products and more.
Room For Improvement: The "Abby" would benefit from lighter colored material that did not show scuff marks as easily.
Heavy usage may show wear but will not affect the function of this durable bag.
Pros
Decent interior space
Compatible with portable and some hospital grade pumps
Large enough to become a diaper bag or purse later
Cons
Higher price point
Darker color may show scuff marks more easily
Heavier than other bags
You can see how big is this bag and more on the video below.
The New Yorker Pump Bag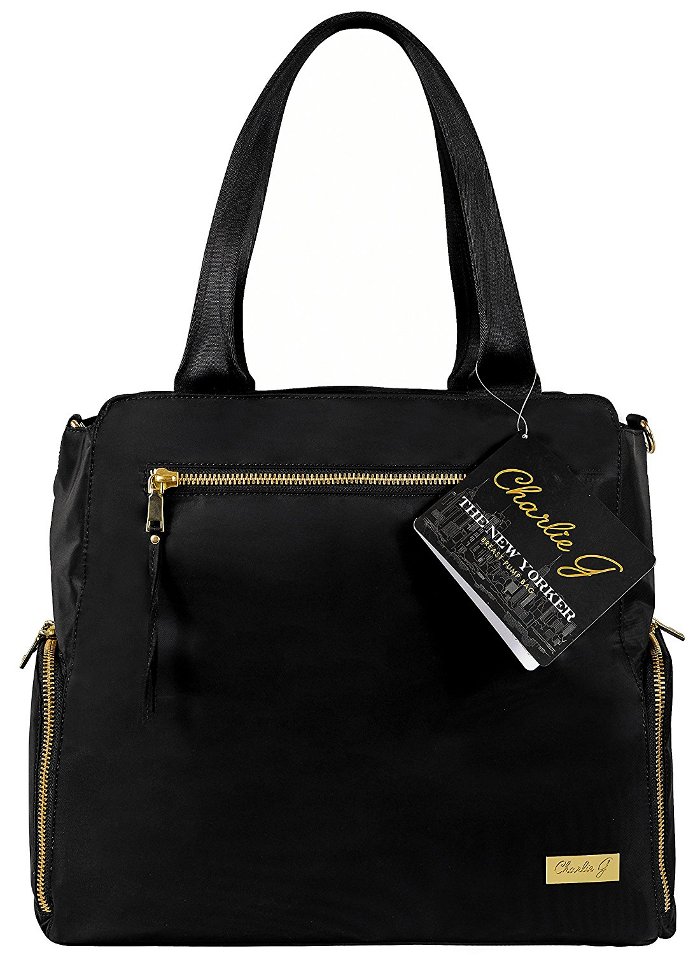 Buy From Amazon
Read Customer Reviews Here
The New Yorker breast pump bag by Charlie is a smart looking bag with a professional looking design. The Cordura nylon is easy to clean, and it comes with drop handles and a strap.
Best Feature: The multi-level design keeps your pump and other items separated.
The lower compartment is insulated, while the upper compartment offers space for other items. A sliding compartment on the side can store a laptop or paperwork.
Room For Improvement: The metal pieces could be upgraded to a stronger material.
This carrier is very roomy at 18 x 8 x 15 inches but is light at 1.6 pounds. It is compatible with many pumps including Ameda, Ardo, Freemie, Hygenia, Medela, Phillips, and Spectra and others. The manufacturer offers a 100-percent satisfaction guarantee.
Pros
Lots of room for storage
Two-tier design helps keep things organized
The nylon is easy to clean and tough
Cons
Design and materials may make zipping pockets more difficult
Two-tier design can make the bag top heavy if overloaded
For Mothers Who Are Expecting For The First Time
We would like to start off by saying congratulations! To help make this article more accessible for everyone, we wanted to include a quick look at breast pumps in general. As a new mother, understanding a bit about this equipment will aid you when it comes time to purchase a carry bag. This will save you both money as well as time (you can thank us later).
Why You May Need A Breast Pump
The biggest reason for most mothers to use a pump after giving birth is to afford them the ability to continue feeding after they return to work. Collecting milk that can be used by a caregiver to later feed the baby assures that the baby continues to receive breast milk instead of formula.
A breast pump can also stimulate lactation when milk is in low supply. They are also used to relieve breasts that become overfilled (engorgement). A need may arise when you will want to pump your milk supply and dump it, perhaps when you need to take certain medications. Also, a breast pump allows infants who are unable to feed naturally the ability to receive milk from their mother.
A Closer Look At a Breast Pump Bag
As you can see, a breast pump is an important tool in a mother's arsenal when it comes to caring for her infant. A typical pump set up will include more than the pump itself. There is also the breast shield, the containers, electrical cords, hoses, and sanitation accessories to consider. That is why you will need something to carry all of this around in.
Why Not Use A Diaper Bag Or Purse As A Carrier?
A purse is not a proper choice for carrying a breast pump. For starters, most purses will lack the space needed to carry a pump and pump accessories. For many, a purse serves to carry a variety of things that should not be mixed with this type of equipment. Contamination could be a concern for pumps carried along with lotions, make-up, and general debris. Another concern might be items that could damage the pump or the accessories themselves.
A diaper bag is another carrier that is less than ideal. Diaper bags are often heavy and large, which makes them an unreasonable choice for pumping breast milk. Just like a purse, diaper bags may become a source of contamination due to other items that they carry. Finally, diaper bags are something that is usually carried when a mother is with her infant, not when she may be away from the baby.
What Should You Look For When Shopping For A Carry Bag?
When looking to purchase a pump bag, a major consideration will be the bag's size. You will want a product that is large enough to fit the pump and all other accessories with a bit of room to spare. A bag that is too large may prove awkward and unwieldy though.
Another consideration would be the number, shape, and size of the compartments or pockets. This is worth considering not only for the ability to organize but for preventing contamination as well.
Other things to consider include materials used, shoulder straps, and extra features that offer convenience and looks.
Additional information:
Photo & Video credits: Amazon, Oh Man Shye Anne!, FourieFamCam, Sarah Wells Bags.